Mark Everard of Michaels Commercial joined the Brokerplan network in 2018. Michaels Commercial are Business Partners (ARs) under our Commercial Finance package.
What was your professional background before joining?
I joined in March 2018 after sabbatical from a successful career in estate agency and mortgage advice. I had a career in estate agency prior to moving into mortgage advice in 2009 where I never looked back.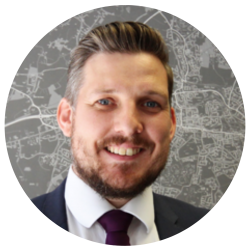 I have my back book of investors from my previous roles who I now services on more complex lending having previous done "vanilla" BTL's for them as well as my former colleagues and friends who operate on a residential basis who don't do commercial/non-reg as that helps a lot as they know I won't poach their clients where as if they don't have an option to help them another broker may not be as fair with them. Also, have networked with local accountants and solicitors to get referrals to which is a two way street.
Another point I resisted at first as I am a believer in "self-praise is no praise" but LinkedIn posts for every completion, offer, feedback I get goes out and that generates hits and leads as well – don't be afraid to advertise yourself.
Given my background and business set up the majority of business I do is property related (bridging, development& buy to let) as I have a good client bank and existing relationships to generate leads on.
This is evolving over time as I am looking to do more business loans as they are a much quicker turn around and can be as lucrative.
What is the best deal you have ever had since joining?
Best deal was arguably my first one, a multi-unit remortgage on a new development in Colchester of £2.5million with possibly the worst/most challenging client of my career to date! Either that or a development deal I did for a now long standing client where we went from offer to completion on a development deal in 19 days. 
How has the support from Brokerplan developed since you joined?
Given my background and bugging the team as mentioned above, we developed that I was given more trust and allowed to self-manage cases and get to direct access to lenders/BDM saw a huge upturn in business and freed up head office from my regular daily calls too. I have also paid to increase my share of deals going over time as this seemed a no brainer as well.
Biggest challenge for me was starting again knowledge wise – I can place a residential/vanilla BTL easily given my experience but coming over to commercial meant ti had to effectively learn everything again which was a challenge. Overcame it by picking up the phone and calling lender after lender after BDM on each deal/enquiry I got to rapidly build my knowledge and understanding of who will accept different types of business.
Don't be afraid to get told no – even if a lender won't do a deal, you'll know for next time & will make you a better broker, oh and you are worth your broker fee!
Support has been fantastic – we had some teething issues at the start where I was used to managing my own pipeline from my previous roles & handing it over to people at head office was tough – and I didn't always appreciate that I wasn't the only AR with cases to chase! Having said that the support from David, Nikki and Peter as superb.
What is your dream holiday? – Dream holiday for me would be Nashville as I am a massive country music fan so that would be my mecca.
Favourite book? – Favourite books are anything by David Gemmell.
Favourite film? – I have an eclectic taste in film and movies – I'll sit here and watch anything from Sound of Music to John Wick!