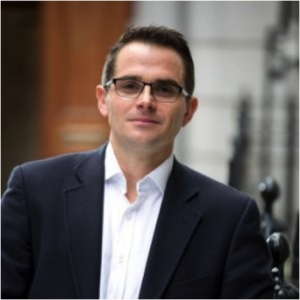 When did you join the network?
2017
What was your professional background before joining?
I'm a chartered accountant by background – qualifying in Specialised Finance at Deloitte in London.  I subsequently spent almost a decade at a multi-billion Euro London based Investment Fund – ultimately as Investment Director and member of the Investment Committee.
What is the best deal/month/biggest achievement you have ever had since joining?
We focus on property development finance.  The big deals are always nice –and I've been fortunate enough to do numerous of £10m+ deals.  However – achievement also comes from helping property developers to develop their businesses.  I get real satisfaction from assisting smaller developers access finance to help them get to the next level, growing from a few houses per development to dozens.  I also like to explore the opportunities that come alongside – spotting gaps in the market and other ways to help clients- for example the Sales Guarantee Proposition we have developed.  Finally – I've developed real friendships with some of the people I work with.
What is the biggest challenge you have faced in establishing your brokerage and how did you overcome it?
It's the classic chicken and egg.   How do you get people to trust that you know what you are doing when you don't have a track record?  I was lucky that I had spent a long time in lending – whilst that was in a different sphere I held a number of relationships with senior executives at the same banks and funds I deal with now.  For me there is no substitute for knowing the subject matter inside out so you can answer any question thrown at you.  This gives people the confidence to start working with you.  Speak to as many lenders as you can, read all their policy documents, have meetings, look at their case studies  and so on.  You need to be a subject expert.
Which product area do you focus on/has it evolved over time?
We focus solely on servicing property developers and all the products they are likely to need – so bridging, property development finance, exit finance and so on.  For me – either being focused on a client type or product type makes sense.  In the early days of learning the market – I quickly realised that I couldn't spread myself too thin and still know the detail I wanted.
What would be your advice to someone considering the Brokerplan opportunity?
I found it a great way to get started.  My advice would be to have a plan for what you want to achieve (business type, income aspirations, lifestyle etc) and discuss it with the Brokerplan team to make sure it fits.  In my experience they'll give you honest and valuable advice.  Once you have that plan – implement it doggedly.  Be flexible but also be prepared for high and lows and don't expect success to be a given.  However with work – it can be a fantastic opportunity.
How have you found the support from the team since joining and How has the support from Brokerplan developed since you joined?
I've found the support to be very tailored to my needs.  From early on – I had the freedom to run the business as I wanted but with the comfort of knowing there was someone at the end of the phone and that matters like keeping on top of compliance updates was being dealt with.
Where does your business come from/how do you generate leads?
We work with accountants, lawyers and other professionals.  We also run events and operate direct outreach. Most of our business comes from word of mouth though. There's nothing better than doing a great job for a client, and having them refer you to other people.
What is your dream holiday/favourite book/film/TV series?
A farmhouse in the Dordogne with my wife and 3 kids
Billion Dollar Whale – you literally couldn't make that story up
The Sopranos – once in a generation