James Wallis of Aben Financial joined the Brokerplan network in Late 2016. Aben Financial are Business Partners (ARs) under our Commercial Finance package.
What was your professional background before joining?
I'm a chartered accountant by background – qualifying in Specialised Finance at Deloitte in London. I subsequently spent almost a decade at a multi-billion Euro London based Investment Fund – ultimately as Investment Director and member of the Investment Committee.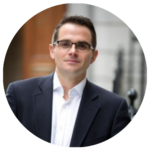 What is the best deal you have ever had since joining?
We focus on property development finance. The big deals are always nice –and I've been fortunate enough to do numerous of £10m+ deals. However – achievement also comes from helping property developers to develop their businesses.
I get real satisfaction from assisting smaller developers access finance to help them get to the next level, growing from a few houses per development to dozens. I also like to explore the opportunities that come alongside – spotting gaps in the market and other ways to help clients- for example the Sales Guarantee Proposition we have developed.
Finally – I've developed real friendships with some of the people I work with.
Dream Holiday? – A farmhouse in the Dordogne with my wife and 3 kids
Favourite Book? – Billion Dollar Whale – you literally couldn't make that story up
Favourite Film or TV Series? – The Sopranos – once in a generation